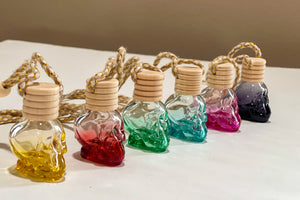 Dia de Muerto Car Scent Diffuser
---
These car diffusers will make your car smells so good for weeks or even months!!
These are designed for cars, but you can basically hang them anywhere you wish to diffuse scent without the worry of any flames, for example: an office. 
These contain 10ml of fragrance. 
How to Use: 
1) Unscrew wooden lid
2) Remove plastic stopper
3) Screw wooden lid back on 
4) Tip car diffuser upside down to wet wooden lid with scent (the more wet, the stronger the scent will be)
5) Insert plastic stopper again if you wish to avoid any chances of spillage 
6) Hang diffuser in car and enjoy!
9) Repeat steps whenever scent fades
WARNINGS:
DO NOT use with a loose wooden lid
DO NOT drink diffuser
Keep away from children and pets